Losing weight is hard, but has Ozempic and Wegovy made it easy? Today, semaglutide injections, also known as the "SKINNY SHOT" are the newest obsession in the aesthetic industry. Originally designed for diabetic glucose control, these shots are now being used for weight loss. These weekly injections have been effective, whereas other methods — diets, workout regimens, supplements, and medications to increase metabolism have failed.
These semaglutide injections lead to an increase in insulin release and reduced glucagon release, helping the body see lower blood glucose levels. This medication can also cause a reduced appetite and slower gastric emptying. Slower digestion keeps people feeling more full for a longer period, which is why everyone is jumping on the Ozempic and Wegovy train. Both of these semaglutide injections have made weight loss easier and faster for many, but the acute weight loss may appear to speed the aging process in the face. Since the weight loss is relatively rapid, the structure of the skin and deep facial tissues do not have time to restructure and shrink, leaving the overlying tissue and skin with increased laxity, volume loss, and more wrinkles. Because of this, patients may experience the "Ozempic Face" or "O Face".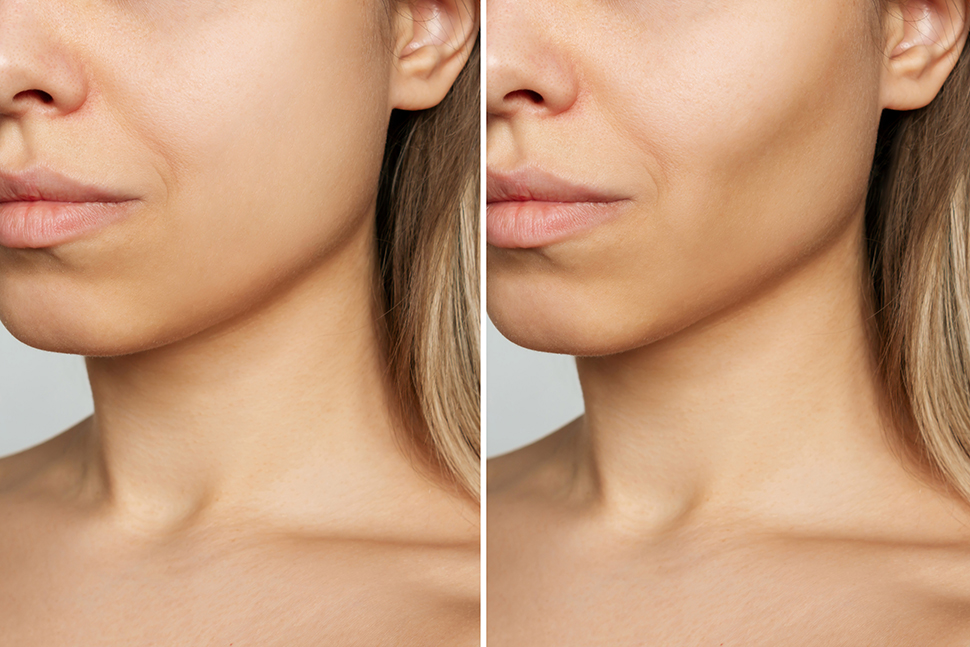 The O-Face may lead to a hollow and gaunt look that could be disconcerting to patients, but Dr. Mentz can reverse and treat these unwanted effects in several ways. Using fillers like Radiesse and Sculptra can add back the structural support needed by adding volume while stimulating the body's natural collagen. Ellacor®, a one-of-a-kind micro coring device can be used to reduce jowling, facial laxity, and the appearance of fine lines and wrinkles in the chin and cheeks. This new micro coring technology reduces the surface area of the skin by 3-8% per treatment. When older patients experience excessive sagging, loss of muscle tone, and jowling, a mini lift to the lower face and neck can be done to restore youth by 7-10 years or so. A consultation with Dr. Mentz and often 3-D imaging and mapping can provide the best guidance for alternatives and treatment.